DO LINT FREE CLEANING CLOTHS REALLY EXIST?
The simple answer is NO and YES. Let's face it, everyone hates lint and fluff, but there are various degrees of lint and on most applications there will be varying levels of tolerance. For instance, using towels or cotton items, a few spots of lint fibre on glassware or glass panels might be ok but if you were working in a cleanroom environment then fibres would not be acceptable. If your tolerance for lint is extremely low then forget cotton cleaning rags and go for a specially manufactured lint free wiper. A lint free wiper is specially manufactured using a variety of materials with low lint properties that reduce and or alleviate the presence of lint.
WHAT IS A LINT FREE CLEANING CLOTH?
Trugrade have a range of lint free cleaning wipes which are non-woven and manufactured using a process called hydroentanglement. Hydroentanglement is a bonding process that uses thousands of high-speed jets of water to bind a group of blended fibres together. These fibres are entangled in a fibre which is then dried and wound into rolls. During the process, the fibres may be rearranged to create patterns known as aperture or creped, resulting in a strong, soft sheet structure. A lint free cloth is a wiper that does not leave fine and short fibres on a surface after wiping. For cleaning tasks in pharmaceutical manufacturing, spray painting, food manufacturing and other industries it is important to have low or no lint. There are plenty of other examples where critical cleaning tasks need to use lint free wipers, for instance cleaning sensitive machines and equipment, glass cleaning, maintenance and cleaning surgical instruments.
FAQ ON LINT FREE CLOTHS, WIPES, TOWELS AND RAGS?
Q. Are cotton rags lint free?
Small fibres wound together make up cotton, see the photo to the right. Let's say you are cleaning some drinking glasses using a cotton towel, the small fibres will normally separate from each other and deposit themselves on a surface, even with a light abrasive cleaning action. This would normally be the end of the discussion, but it is not! Cotton has many properties, for instance a loose weave will result in more lint and a tight weave will result in less lint.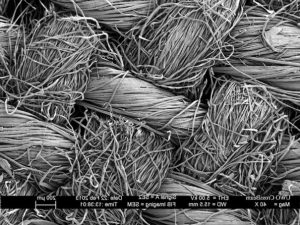 Q. How do I drastically reduce the risk of lint?
If you are looking for a suitable low lint wiper and want to avoid annoying lint, then you should be avoiding paper or loose weave cotton rags and paper towels like:
Paper towel rolls and sheets – See paper fibre exploded view to the right.
Interleaved paper towel
Paper centrefeed roll towel. Just remember one simply rule, PAPER TOWEL AND COTTON RAG can result in lint!
The best solution for avoiding lint is to use a specially made lint free cleaning cloth.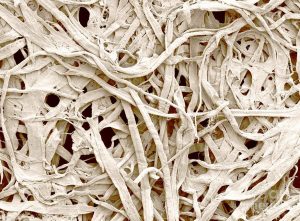 WHAT IS THE BEST LINT FREE CLOTH?
This will be dependent on the cleaning task and environment you want to clean or wipe. There are many cleaning wipes specially manufactured for work areas and cleaning environments were there is a low tolerance for lint.
TRUMICRO
Is a smooth finish lint free microfibre cloth. This type of cloth is designed as an extremely tough and absorbent lint free cloth, with high tolerance to tearing. Because Trumicro has a smooth finish (not looped) it is less prone to get hooked on surface edges.

TRULOLINT
Is a range of low lint and lint free cloths and wipes made from a mix of polyester and polyproylene designed for heavy (Series 80), medium (Series 70) and light (Series 60) lint free cleaning tasks. Our Trulolint TLL4078 is specially designed to clean and buff glassware in domestic and commercial kitchens, aged care facilities, hospitals, schools and retailers.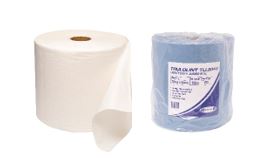 TRUPREP
Includes heavy duty low lint cloths uniquely textured to hold oil, inks and solvents. They are 100% polypropylene, absorbent, lint free cloths. Truprep products have been designed for use in pharmaceutical manufacturing, spray painting industry and printing ink facilities, they have been designed to specifically replace cleaning rags.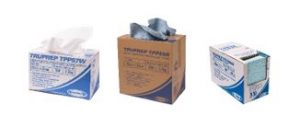 TRUWIPE SPECIALTY
Included in this range are cleaning products suitable for hospitals, aged care, dental and inflight services. Truwipe Specialty, non-woven lint free cloths have been specifically designed to for a variety of low lint cleaning tasks.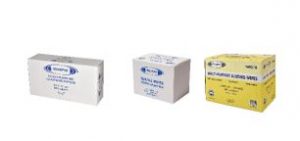 WHAT ARE THE BENEFITS OF LINT FREE CLEANING CLOTHS?
Low lint wipes are created from a mass of fibres, resulting in a strong and durable wipe with good wet and dry strength and excellent absorbency. These wipes leave surfaces lint free after cleaning, so they can be used where contaminant control is essential for example when cleaning and preparing surfaces before painting or removing sealer, cleaning instrument parts, tools, food preparation areas, equipment and machinery.
The Trugrade range of lint free cleaning cloths and wipes are highly absorbent making them economical for mopping up spillages and absorbing oils. These wipes are an effective way to clean and degrease car panels and other surfaces.
The Trugrade range of wipes are also chemically resistant to most cleaning agents so can be used for industrial cleaning or for general wiping purposes.
The range of low lint non-woven, impregnated and textured wipes are available in convenient packs including rolls, flat sheet, folded formats, and dispenser boxes, designed to suit the needs of your business. You can view the range of Trugrade products, HERE.
Other benefits resulting from using lint free cleaning cloths, include;
Less lint, results in a surface or object being cleaner.
Reduces the possibility of contamination on surfaces and equipment.
Low lint cloths offer low fibre generation due the lack of tiny fibres normally found in cotton rags and paper towels.
Low lint cloths are safe to use on dry sensitive surfaces without depositing cotton or paper fibres helping reduce the risk of contamination.
Low lint cloths are designed to trap small particles of dust, dirt and grit normally found on surfaces. This means you can clean without scratching.
Lint free cleaning wipes reduce the risk of contaminating food preparation areas as well as food manufacturing facilities.
Lint free colour coded cleaning cloths are available for use in the dairy and food industries.
If you have any questions or want to find out more about the possibilities for your industrial or commercial application, please click here and one of our experienced staff will be in touch.