What are the different types of Anti-Bacterial wipes?
The range of Antibacterial Wipes is extremely broad and consists of Sachet Wipes, Alcohol Wipes, Task Wipes, Surfaces Wipes, Clinical Wipes and
Multipurpose Colour Coded Wipe. These wipes are both wet and dry in style.

Background
"Ready-to-use" disinfecting wipes (also known as pre-impregnated disinfecting wipes) are broadly used in the food industry and domestic situations. Their application in hospitals and healthcare centres for decontamination of medical devices and surfaces is steadily increasing because of their convenient implementation in practice and reliable performance. Besides their acceptable compliance and easy application, there is still literature reporting the disinfection failure due to the interaction between textile substrate and active ingredients, which can highly increase the risk of an infection outbreak. For more information regarding this point visit the Antimicrobial Resistance & Infection Control website.
Disinfectant wipes vs Antibacterial Wipes?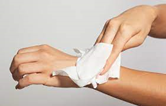 Disinfecting wipes are more commonly for hard surfaces in the home and workplace. If your wipes say "sanitising" or "antibacterial" then they are probably for your hands. Antibacterial wipes kill bacterial, not viruses, says Dr Carla McWilliams, MD, and Infectious Disease Specialist, they are usually for hands, it is very important to read the directions to be sure. Covid19 is a virus, not bacteria so antibacterial wipes may not kill it, that is why it is so important to read the label.
Sanitising wipes may be alcohol-based wipes for your hands and skin, or they could be disinfecting wipes for surface use. Always read and understand the label before use.
What Are Disinfecting and Antibacterial Wipes?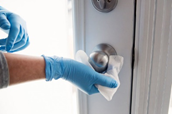 Disinfecting wipes are normally disposable cleaning wipes that have a germ-killing ingredient in them. They are designed to kill viruses, kill germs, and kill bacteria on hard surfaces like doorknobs, household surfaces, counters, TV remotes, phones, toilets and bathrooms and other equipment. They do not work on soft surfaces like clothing or upholstery.
Normally a germs-killing ingredient on disinfecting wipes is a chemical pesticide, some have been known to contain benzalkonium chloride or propylene glycol and you shouldn't use them on your skin. Always wear PPE when using these wipes.
Antibacterial wipes, on the other hand, are normally a disposable cleaning wipe also treated, normally with an isopropyl alcohol ingredient and these are designed for use with your hands and skin.
Do Disinfecting Wipes Kill Coronavirus?
Many wipes do, but just because they say "disinfecting" do not assume they will kill bacteria and the COVID-19 virus. So how can you know for sure?
"The label will tell you what germs the wipes can kill, so look for the COVID-19 virus on the label", says Dr McWilliams. There are hundreds of approved disinfectants that can kill COVID-19 virus. Don't worry about one ingredient or brand. Just read the label.
What does a Colour Coded Antibacterial Wipe Do?

When it comes to antibacterial wipes there are exceptions to the rule as is the case with antibacterial colour coded multipurpose cleaning wipes.
These wipes are normally labelled and sold as antibacterial and as such most people believe that using them will treat the surfaces with an antibacterial coating, thus kill germs.
This is simply not the case. The antibacterial inhibiter that is in these wipes is purely there to reduce the chance of bacteria, germs and or mould growing in the wipe itself. These wipes do not leave any treatment on the surface you are wiping except if you are using a suitable solution with them. As this style of the wipe is designed for a single it seems pointless insisting on a wipe that is labelled anti-bacterial. In this range of products, when teamed with a suitable solution, normal colour coded multipurpose wipes in cut sheets and rolls will do the same job.
Do Wipes have Commercial Grade Disinfectant Properties?
Firstly, we need to understand what commercial-grade disinfectants are. A household and or commercial disinfectant is suitable for general purpose disinfection of buildings or fitting surfaces or other purposes, in premises or involving procedures other than those specified for a hospital-grade disinfectant, but is not;

a.     an anti bacterial wipe or cloth reparation; or
b.     a sanitary fluid; or
c.      a sanitary powder; or
d.     a sanitiser.
This said there are many wipes on the market that are labelled as disinfectant wipes, as previously mentioned it is always best to read the label to make sure the wipe is suitable for your application.
What is the best way to clean Household Surfaces?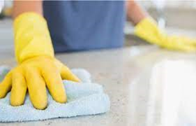 Not cleaning household surfaces will potentially help spread germs and bacteria. The best way to clean these areas with a disinfectant wipe or solution is;
Clean high touch surfaces regularly (for example, daily) and after you have visitors in your home. Always use a quality wipe or lint free cloth, avoid using a paper towel as paper can easily tear and leaves behind paper particles.
Focus on the high touch surfaces such as doorknobs, tables. Light switches and countertops.
Clean other surfaces in the home when they are visibly dirty or as needed. Clean them more frequently if people in your household are more likely to get very sick from Covid-19. You might also choose to disinfect.
Clean surfaces using a product suitable for each surface, following the instructions on the label.
Reduce Contamination of Surfaces Take additional steps to limit airborne particles or from touching surfaces with contaminated hands.
Ask visitors who are not fully vaccinated to wear a face mask.
Follow the guidance for people who are fully vaccinated before inviting visitors to your home.
Isolate people who are sick with Covid-19
Have everyone in your household wash hands often, especially when returning from outside
activities.
 How Best to Cleaning When Someone is Sick?
Disinfect with suitable disinfecting wipes or solutions in your home when someone is sick, disinfecting kills any remaining bugs on surfaces and reduces the spread of germs. Remember to always keep disinfectants out of the reach of children.
How best to disinfect?
Always follow the directions on the label
The label includes instructions on how to use the antibacterial wipe or product and specific instructions to keep you safe. Check the label to find out what personal protective equipment
(PPE) you need to use, such as gloves, safety eyewear or face masks.
Clean visibly dirty surfaces with household soaps (soapy water) or detergent before disinfecting if your disinfecting wipes or solutions do not have a cleaning agent.
Best to use a disinfecting wipe or solution that contain active ingredients that are effective against germs, bacteria and Covid-19.
Note: many products recommend keeping the surface wet for a certain period of time, check the contact time on the label.
Ensure adequate ventilation while using any disinfectant by keeping doors and windows open and
use fans to help improve airflow.
When And How to Clean When Someone Is No Longer Sick?
After the person who was sick no longer needs to be separated, wait as long as possible (at least several hours) before you clean and disinfect.
Less than 24 hours:
Follow the guidance for cleaning and disinfecting when someone is sick. Using recommended clean products, clean and disinfect surfaces in the areas that the sick person used (such as the bedroom and bathroom) if you enter these areas less than 24 hours after the person is no longer sick. Wear a mask when you enter the room, open windows and use fans to help increase airflow, and always use disinfectants safely.
Between 24 hours and 3 days:
Clean all household surfaces (disinfection is not needed) in the areas that the sick person used if you enter these areas between 24 hours and 3 days after the person is no longer sick.
After 3 days:
No additional cleaning (aside from routine cleaning) is needed in the areas that the sick person used if you enter these areas more than 3 days after the person is no longer sick.
For more information online refer to the TGA site.

If you are an Australian business and you would like to purchase quality products to wash, bleach or replace any paper towels you may be using we can help. Human health and consumer safety are at the cornerstone of everything we create at Trugrade. Please have a look at our online catalogue at www.trugrade.com.au. It is always recommended to check product availability on purchase.