How do You Keep Your Facility Safe From Covid-19?
COVID 19 has significantly changed our personal and professional lives. If you are a small business owner, you have more than likely felt the strain. Where in the past you only had to make sure your focus was on supplying products and services, now you need to include disease control strategies for keeping employees and customers safe. Business in the current climate is challenging, especially when things are changing daily. Fortunately, there are resources available to help keep your employees and customers safe, ensuring your business can still grow despite COVID-19.
Don't forget to also check the SAFE WORK AUSTRALIA COVID-19 website for additional measures for your industry and always ensure you are working in line with government standards.
Covid-19 Routine Cleaning, Do I Need to Clean light switches as well?
First things first, you will need to establish a comprehensive COVID 19 cleaning check list. This checklist will help you make sure you know what cleaning and disinfecting products you need for frequently touched surfaces and work areas.
Detergents should be either as a solution that can be mixed with water or as a wipe.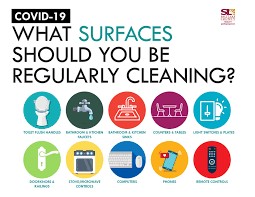 Detergent should be a quality 2 in 1 detergent and disinfectant solution, this can be used for routine cleaning.
Wipes should contain at least a 70% hospital grade alcohol for frequently touched areas.
General cleaning cloths, preferably a colour coded range, reducing the risk of cross contamination.
Disposable gloves, masks and eye protection reduce the need to launder and clean PPE.
To reduce risk of COVID 19 contaminated areas, ensure your cleaning services are cleaning and disinfecting frequently touched surfaces such as:
Tabletops
Door handles
Light switches – always be careful around electronics.
Desk
Toilets and toilet doors
Taps
TV remotes – always be careful around electronics.
Kitchen surfaces
Cupboard handles
Elevator buttons – always be careful around electronics.
All visibly dirty areas
Clean frequently touched surfaces and objects, these are surfaces used repeatedly by lots of people throughout the day. Clean surfaces and fittings that are visibly soiled or after any spillage as soon as possible.
What Additional Cleaning is Required If Someone In Your Workplace is Suspected Or Confirm To have Covid-19?
It goes without say you will be required to carry out additional cleaning should you have the unfortunate circumstance of this event happening. Keep calm and refer to your COVID 19 cleaning and disinfection process checklist.

Prevent access to the areas that were used by the suspected or confirmed case as well as any common areas (break rooms, bathrooms and any known or likely touch points.
Open outside doors and windows if possible, this will increase air circulation.

What will your cleaning service need for cleaning and disinfecting?

a detergent, as a solution that can be mixed with water and ….
a disinfectant containing alcohol in a concentration equal to or greater than 70%, chlorine bleach in a concentration of 1000 parts per million, (see the Australian Government, Department of Health website for more information on achieving the correct bleach solution) or …..
use a 2 in 1 detergent and disinfectant solution or wipes for cleaning and disinfecting.
The TGA has published a list of disinfectant products that are permitted to claim they are effective against COVID 19. So long as you use a disinfectant containing one of the chemicals listed above in accordance with the manufacturer's directions, they will be effective. They do not have to be on the TGA list.
a combined detergent and disinfectant solution for disinfecting high intensity areas.
appropriate PPE for cleaning staff should require them to wear gloves, including disposable gloves, and safety eye protection.
Provide a disposable apron to protect where there is visible contamination exist, respiratory secretions or other bodily fluids.
surgical mask to protect staff if the person suspected to have COVID 19 is in the room.
With Covid-19 What Should I Clean?
Thoroughly clean and then disinfect:
All areas of the business or community area suspected or confirmed contamination. Any common areas and….
any known frequently touched surfaces or likely touch points in the workplace such as:
Tabletops
Door handles
Light
switches
Desk
Toilets and toilet doors
Taps
TV remotes
Kitchen surfaces
Cupboard handles
How Do I Clean Safely, Do I Need To Wear Gloves And Other PPE?
Always read the product label and Safety Data Sheet (SDS) for cleaning products before using and make sure you follow all instructions, including all required PPE. Always make sure the product is suitable for use on the frequently touch surfaces you are cleaning.
Ensure staff and cleaning services are trained in putting PPE on and taking PPE off, including washing or sanitising hands between steps.
Use disposable gloves where possible and discard after each use. Wash or sanitise hands before and after wearing gloves.
What To Do After Cleaning?
Dispose of any single use PPE, disposable cloths and covers in a rubbish bag and place it inside another rubbish bag and dispose of in general waste.
Launder any reusable cleaning equipment including mop heads and disposable cloths and completely dry before re-use.
Empty and re-clean equipment such as buckets with a fresh solution of disinfectant completely dry before re-use.
What About The Air Conditioning and Ventilated Spaces?
Ventilation is the deliberate introduction of fresh air and removal of stale air from a space. This guidance aims to support the community, business and organisations to understand why well-ventilated indoor spaces reduce the risk of transmission of COVID-19, and to take action to stay COVID-safe. For indoor environments, ensuring that heating, ventilation and air conditioning (HVAC) systems are well-maintained and operating properly may help to manage the risk of virus transmission. For individualised advice, businesses and organisations should consider consulting relevant experts such as building owners or facility managers, ventilation engineers and industrial or occupational hygienists.
Some facilities, such as healthcare, have specific recommendations which should be followed.
Why Is Ventilation Important?
The virus that causes COVID-19 can be spread from person to person through contact with droplets, which are produced when a person sneezes or coughs, or through other small respiratory particles that are produced when people talk, sing or shout. These small particles can remain in the air for some time. Aerosolised particles may build up if there is not enough ventilation, for example, if a group of people sing or speak loudly in an indoor space without the windows or doors open. Open or well-ventilated spaces reduce the risk of transmission of COVID-19 because infectious particles are more quickly diffused in the open air than in spaces with less ventilation.
Transmission of COVID-19 is more common indoors, where there may be less space to physically distance, and where people may come into contact with droplets and aerosolised particles more easily.
To help reduce the risk, it is important to take steps to improve ventilation in indoor settings so that any infectious particles that may be present in the air are more quickly removed.
What Steps Are Needed to Improve Ventilation Indoors?
Indoor ventilation can be most easily improved by opening doors and windows. Other ways to safely improve ventilation include to: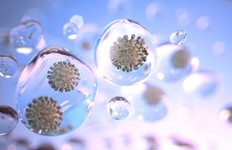 avoid directing fans towards people's faces, such as by aiming them continuously towards the ceiling or floor. Limit oscillation and turbulence of fans
regularly inspect, maintain and clean heating, ventilation and air conditioning (HVAC) systems
avoid using only recirculated air in HVAC systems, and increase the outside air intake
consider disabling ventilation controls with automated settings that reduce air supply based on temperature or occupancy
ensure exhaust fans are operational if in place.
consulting relevant experts such as building owners or facility managers, ventilation engineers and industrial or occupational hygienists.